Imagine your team rolling out a major update with a set of game-changing features, each of which needs to be introduced to the users in a comprehensive way. How would you present those to the audience and explain what they are about?
Or let's say there's an idea for an amazing project, and you only have a couple of minutes to pitch it to your potential stakeholders. Would you really want to waste the moment talking or showing a number of boring slides? Of course not.
Among the ways to aptly communicate brand values, introduce innovations and explain the how-tos of a product, video is deservedly the best one. According to Hubspot, 66% of consumers choose to get to know a product or brand via videos. Additionally, tutorials, explainers, and product review videos became one of the most popular content types as of 2022.
Approaching video production is still a challenge for businesses. 29% of video marketers experience difficulties with producing and editing videos, the other 29% simply lack content ideas.
Understanding the value of a good idea and knowing what it takes to bring one to life, we created this guide to make the animated video production process transparent and inspire you to tell your stories to the world.
Tasks that brands can solve with animated video production
The versatility of today's business video production allows for solving a number of tasks, from building a brand's presence in the market to educating customers and improving conversions.
You may be just considering making videos a part of your brand strategy or already using them with a specific purpose. Regardless of where you are with your thoughts about video production, its application and use for your business are far more diverse than you can imagine.
Here are some examples of tasks that brands could solve with video content.
Storytelling as a basis for video production
Understanding the practical value of animated video production is half the success though. The real magic starts when a story is being told.
Stories are the DNA of brand video production. Storytelling makes videos remarkable and builds a direct association with a trademark. Think of an action, a product, or a situation that makes a part of your daily routine, and you'll definitely remember a brand associated with it. You are driving and find yourself hungry—visit McDonald's drive-thru to grab some of your favorite junk food. Have finally enrolled in the gym and are ready to "just do it"—go pick a new pair of Nikes.
Brands tell stories because they have something to say. But how do they become heard by millions of people?
What makes a captivating brand story
Whenever it's about a commercial, a capabilities video, or an explainer, a story needs to be captivating to grab the watchers' attention, and don't release it until a definitive association is built.
In most cases, stories become captivating when these are customers' stories. The reason for that is simple—the closer the brand is to its customers and their pain points, the faster it establishes trust.
Among the important video production components and details helping brands make good use of storytelling are:
Relevant context. Any details that make an image realistic and create better immersion in the situation (interior, clothes, nature).
Quality voiceover to convey audio messages in the best possible way and make the viewer focus on the key objectives of the video.
Conciseness of the narration. For a viewer, it's easier to follow the plot of a story, when the events are organized in a natural and logical way, following each other as it happens in real life.
Comprehensiveness. Making sure the story is deprived of complementary information and told in a way everyone can understand and follow the plot.
Realistic depiction of an environment or situation through visual details (inscriptions on items) and sounds (the rustling of leaves) makes the story become life and provokes necessary associations.
Employing artistic devices to better present the main idea and make it memorable in viewers' minds.
Complying with a brand's tone of voice is crucial to build relevant context and create an integral brand image.
Ways of telling brand stories
Storytelling wasn't invented overnight, which means that for years, captivating stories have been built on certain artistic principles. Because of this, all video and design arts still have something in common despite all of the brands' stories being unique.
Although there's no single recipe for a perfect story, but rather a set of techniques that can help to direct the creative process and engage the audience throughout the narration. See some real-life and fictional examples below.
CREATIVE TECHNIQUE
DEFINITION
Metaphor
MetaphorDrawing the comparison between two otherwise unrelated things
Literal depiction
Сonveying information in an unaltered and unobstructed way
Demonstrating an extreme quality of a product
Severe dramatization of a product attribute
Focusing on an extreme advantage of a brand
Severe dramatization of a brand attribute
Demonstrating the consequences of a brand's absence in the market
Creating a reality where the absence of a product leads to absurd consequences for the consumers
Demonstrating a brand's loyalty to the consumer
Portraying the brand dealing with obstacles to deliver their services to a client
Demonstrating a consumer's loyalty to the brand
Showing a consumer that faces real difficulties to get their favorite product
A journey from idea to realization: 8 stages of video production
All captivating brand stories once started with ideas and then transformed into videos. Animated video production is nothing but a consistent process that occurs in several steps until the final product is released.
So, what does it take to come up with a good idea and turn it into an engaging video?
Our Visual Communication team compares video production with a journey that has a starting point, a route to follow, and a destination.
Stage 1. Onboarding
First, a video production team needs to collect and interpret the entry data and goals that a business aims to achieve with a video. As a rule, this is achieved during a kick-off meeting (or a series of meetings) with business representatives.
The result of this stage is a brief that contains the so-called coordinates of the future journey. These coordinates are the tasks that should be solved with a video as well as specific metrics to use to measure the success.
Stage 2. Concepting
Once the quality entry data is collected, it's time to start building the route. To do this, a Visual Communication team sets for brainstorming. In fact, brainstorming is a collective search for ideas that would satisfy the brief.
The result of this stage is a moodboard with a synopsis of a future story.
Stage 3. Storyboarding
When the route is more or less clear (the idea is formed and approved within a team), it's time to choose the way to travel. This way, a verbal basis or a script is created.
Apart from the script, at this stage, a team also forms a storyboard, a representation of how and when the words, phrases, and sentences are going to appear in a video. To give you a better understanding of what a storyboard is, we've taken the slides from one of our video projects. You can also check the full project on Behance.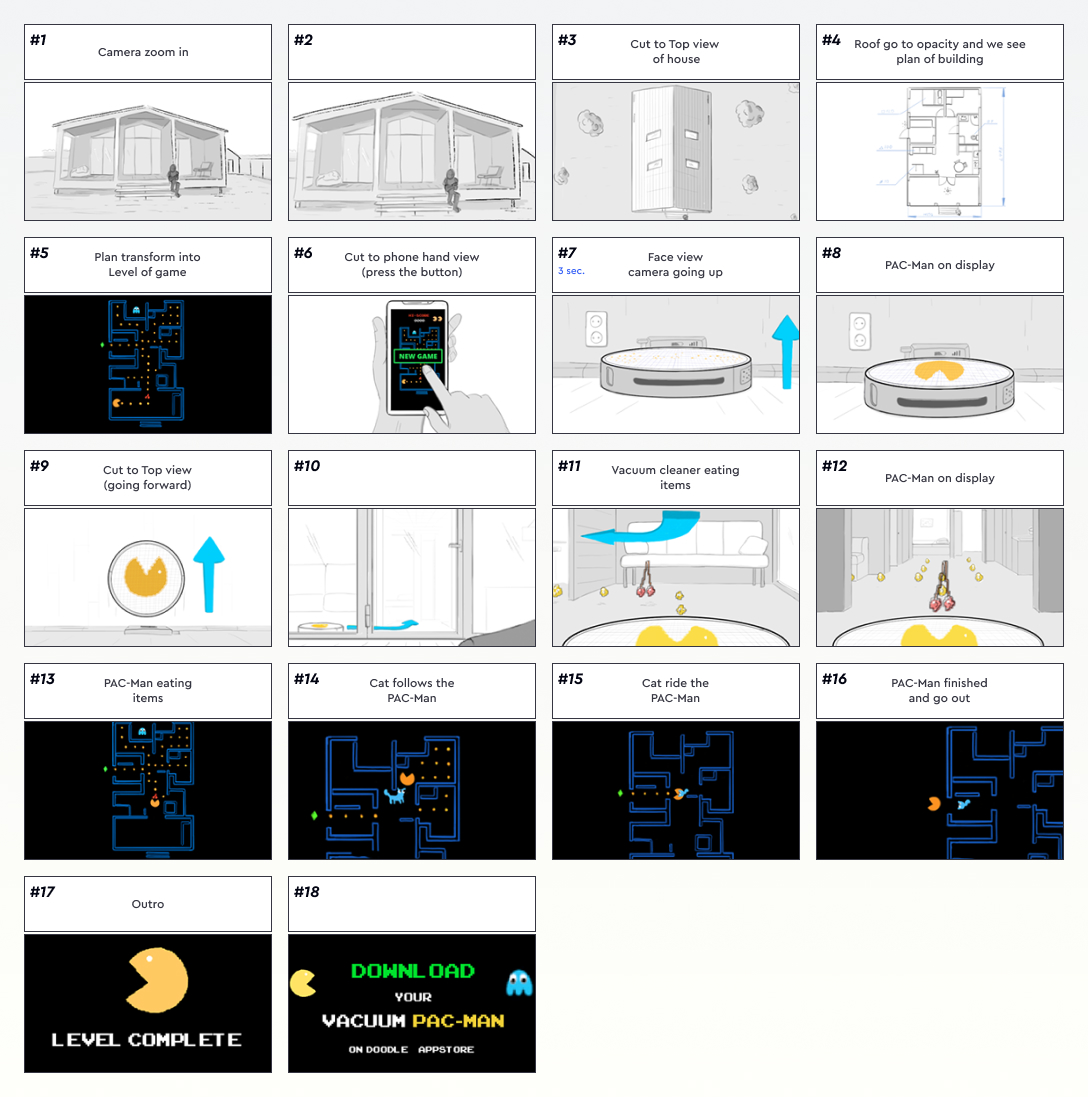 Stage 4. Animatic creation
Next, we start planning the journey by deciding on the duration of each scene and its sequence. The result of this stage is an animatic, an animated version of the storyboard
Animatic creation is one of the most crucial stages of the whole video production process, as it defines the volume of voiceover, animation, and background music for the final video. In addition, this is the stage where an idea and its way of realization are validated by the client.
Below is our example of an animatic video created for one of our projects and be sure to check out what it's about.
In case the client is satisfied, we approve the animatic and make a move forward. If something needs to be changed, we make adjustments until the client is satisfied with the result.
Stage 5. Design
At this stage, we focus on creating visual assets that would make the final video together with a team of graphic designers. The results are images that are also presented and approved by the client.
Stage 6. Animation
During this stage, we rig and animate characters, assemble scenes, create transitions, and animate cameras and environments to create an immersive, detailed version of the animatic using final designs.
Stage 7. Post-production and adding SFX
We are almost there. A few moments separate us from the final point of the route. At this stage, the team proceeds to add bells and whistles that would make the narration realistic: video SFX, color correction, sounds that convey contact with surfaces, nature sounds, etc.
Stage 8. Delivery
Here we are, arriving at the destination.
What do you get as a result?
To conclude, we'd like to present an example of what you get in the end. Below is a capabilities video created by the Trinetix Visual Communication team. We used a blend of storytelling techniques to tell our own story and created bright audio-visual assets to make it live.
Here we use a mix of anthropomorphization and metaphors to represent the spirit and main values our team can bring to a project. Some images and objects are humanized, while others are depicted literally to establish a connection with the audience on one side and create a relevant context on the other
At Trinetix, we create human-centric solutions that engage and inspire. Our Visual Communication team is ready to help you unlock the potential of animated video production and stand out.
If you want to see your ideas take off, aim to enhance your user experience, or want to get your message across, let's talk about making it real.