СHALLENGE
Building inventory process integrity to connect multiple healthcare facilities
In healthcare facilities, where hundreds of items are needed to fulfill day-to-day operations, keeping track of medical supplies is a major challenge. With each medication having its dosage, release form, storage conditions, and expiration date, procurement specialists need to constantly monitor storerooms to prevent stockouts and timely replenish supplies.
Things get worse when a healthcare provider operates multiple facilities, each of which has its own inventory record and processes in place. Tackling operational inefficiency, spending millions of dollars on utilization, and lack of innovation is the cost of poor inventory and process management within healthcare organizations.
Hospital inventory management systems that are available in the market offer limited customization and scalability. As a result, none of them provides a holistic solution to medical supply management challenges.
Creating a single inventory management approach for multiple facilities was a priority of a US-based hospital system that approached Trinetix for designing a custom healthcare inventory management solution.
SOLUTION
Introducing a one-stop cloud-based solution with real-time inventory tracking and automated reporting capabilities
Aiming to arrive at the concept of a digital healthcare inventory management solution, Trinetix Experience Design team did substantial research that allowed us to define the system's core capabilities.
Inventory management
Bringing automation to help healthcare professionals get up-to-date information about stock rotations, prevent administrative errors, and avoid critical issues.
Order management
Connecting vendors and hospital staff within a single system to provide a 360-degree view into procurements and automate manual ordering.
Streamlining communication and workflows
Bridging the gap between the front and back office staff, moving away from legacy systems and spreadsheets, and ensuring interoperability with hospital software.
Based on these findings, our team delivered a concept of a custom next-gen inventory management solution.
Hosted in the cloud, the system allowed hospital staff (from nurses to procurement specialists) to get real-time access to medical supplies and perform order management without leaving their workplaces.
A single view of inventory by the department is available via a comprehensive dashboard that allows procurement specialists to easily spot items that will soon expire or need to be disposed of along with expected arrivals.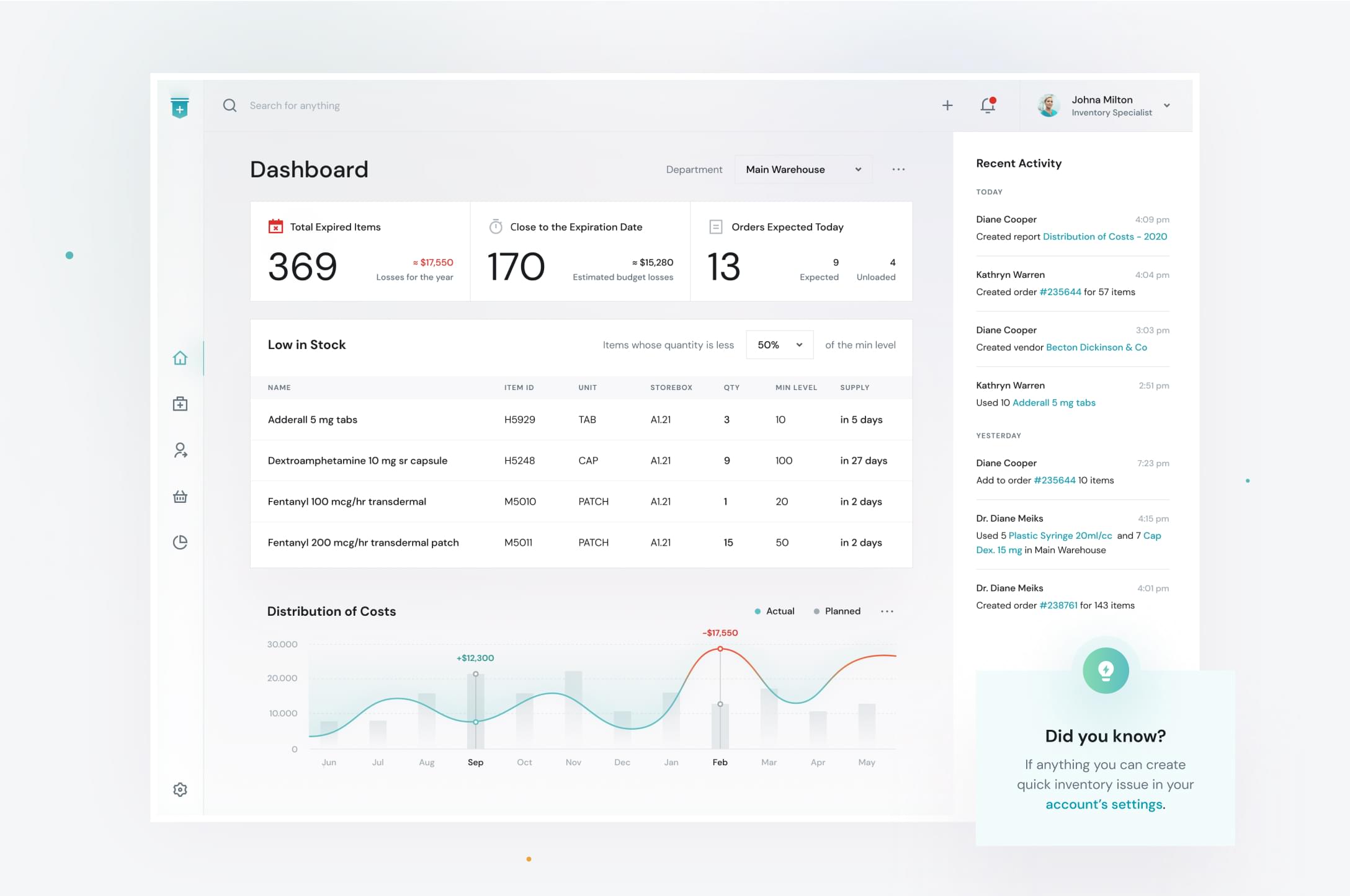 Inventory managers can easily access information about items by category and availability as well as view the details about vendors and prices and make orders directly from the system.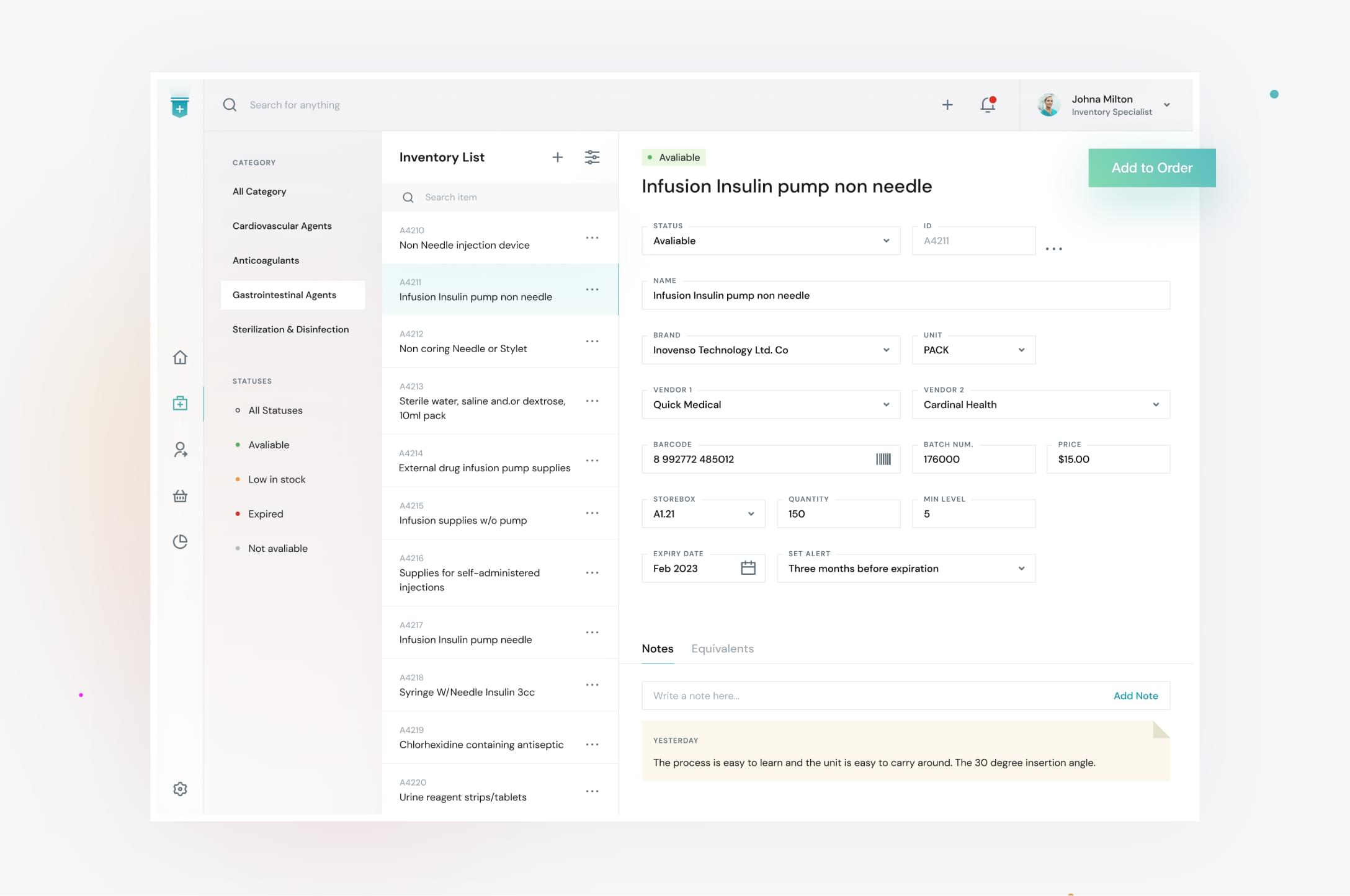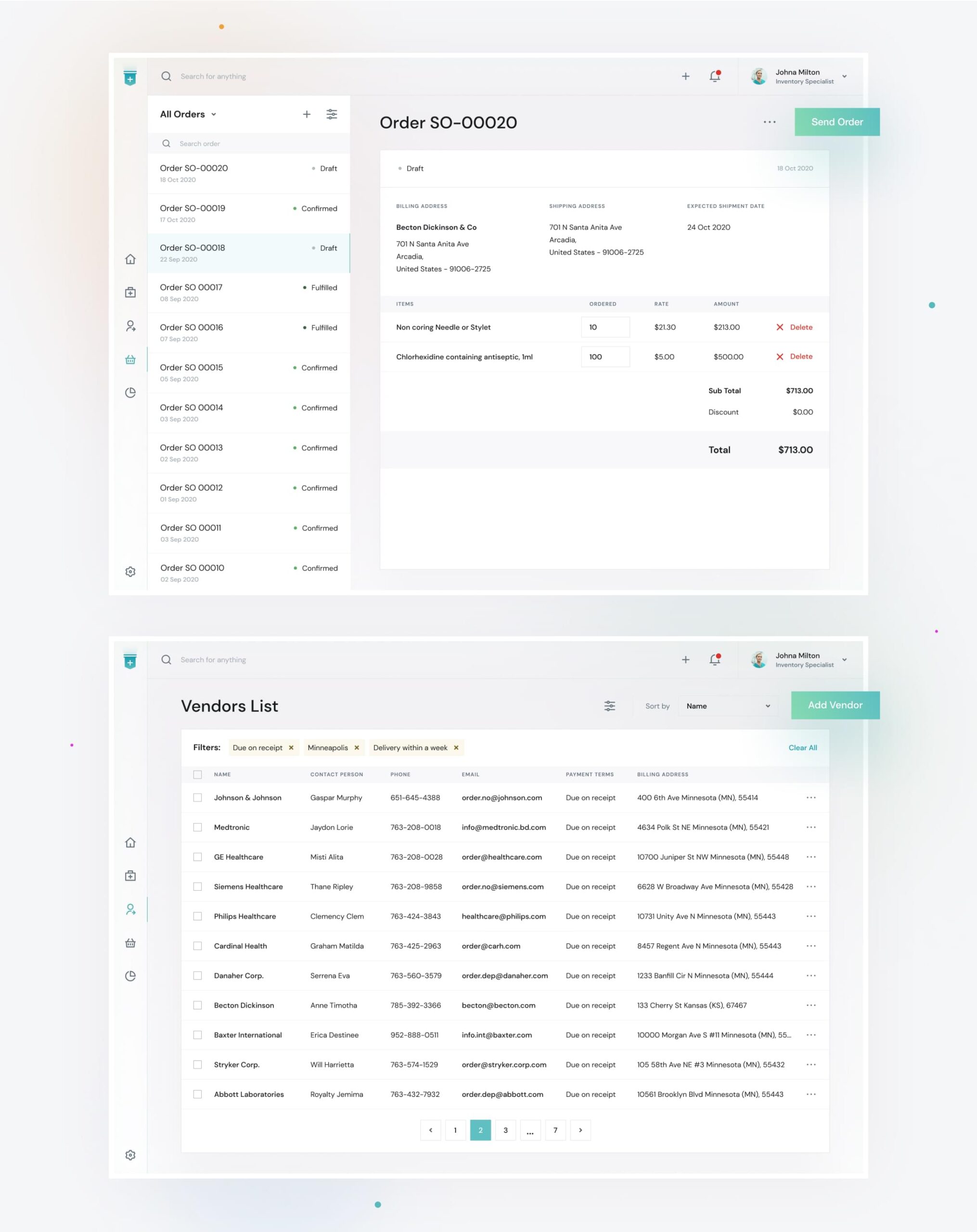 A set of reports builds real-time visibility into warehouses, item usage, and cost distribution to provide healthcare professionals with data-driven insights for smarter and more accurate decisions.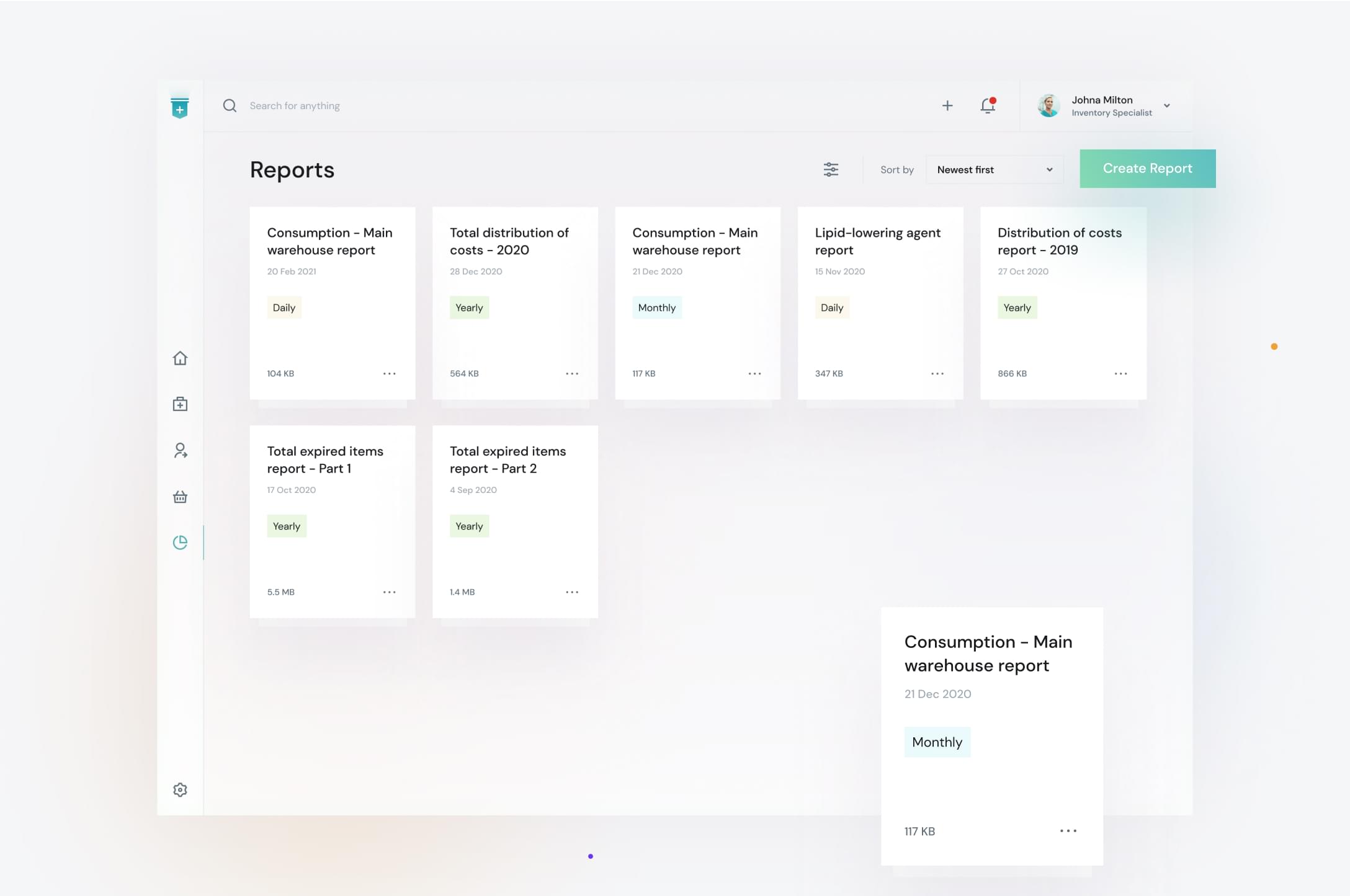 With a built-in barcode scanner, nursing staff can make use of the app version for tablets and smartphones, thus saving the time and effort they would have spent on manually inputting data about the items that need to be restocked.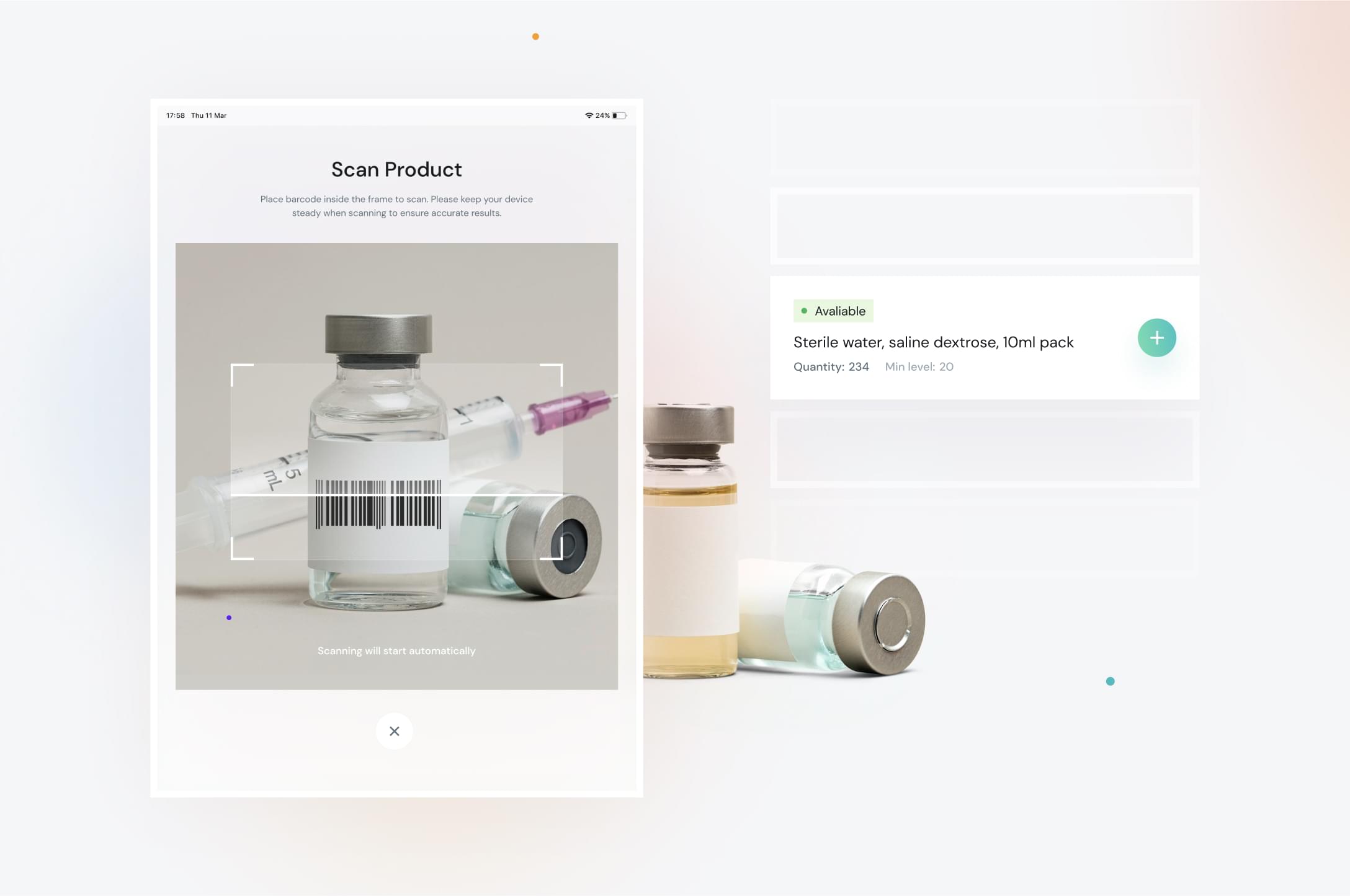 IMPACT
Ensuring full control over healthcare inventories with a comprehensive, easy-to-use supply management platform
Providing real time-visibility into medical supplies, orders, and vendors allowed the client to actionably address available hospital inventory management challenges. The design concept developed by Trinetix directly impacted the results the company got from implementation.
Building inventory process integrity for business ramp-up
The delivered solution allowed hospital staff to run and control inventory and order management processes in real time, bringing the client's business to a new level.
Minimized administrative errors
Increased operational efficiency
Reduced inventory costs
Tackled excessive utilization
Acceleration of digital agenda
With cloud enablement being the center of the company's digital strategy, the newly introduced system allowed connecting multiple facilities within one scalable system and accelerated digital transformation.
Replaced all cumbersome and ineffective legacy systems with a single tool
Helped facilities move away from manual processes and outdated workflows
Boosted innovation adoption among medical staff
Improved healthcare quality
Rethinking supply management processes with the new inventory management solution helped the company focus on what matters most—patient care.
Reduced the administrative burden on hospital staff
Unleashed time and efforts to improve the quality of medical services
Reimagining experiences always make a difference. Achieving measurable results requires reliable expertise and an eye for detail. At Trinetix, we have both.
Let's chat about creating exceptional experiences together!