Challenge
Unlocking a new sought-after market with a holistic ESG service offering _
For the past few years, state institutions both in the US and Europe keep prioritizing concerns related to ESG (environmental, social, and governmental) risks. This gradually brings large companies to regulatory reporting on ESG compliance as a way to contribute to a more sustainable future and help investors consider ESG risks when making decisions.
Our Fortune 500 client aimed to integrate sustainability management and reporting in their product ecosystem to provide customers with a strong competitive advantage and enhance the brand's presence in the market.
With the variety of sustainability regulations and requirements established to comply with them, the client needed to make a deep dive into a completely new area and develop comprehensive assessment review processes from scratch.
Such a strategic move required involving a forward-thinking product design team that would help the client pilot ESG initiatives and achieve a direct product-market fit.
Considering our innovation-first approach and experience in creating impactful enterprise-scale design solutions, the client partnered with Trinetix for the development of an ESG compliance and reporting product concept.
Solution
Introducing a customer-facing environment for sustainability measurement and reporting_
Aiming to help the client approach sustainability risk management from a 360-degree perspective, we started with an in-depth market analysis and competitor research. This allowed us to define the essential pillars of user interaction with ESG regulatory compliance and incorporate the findings into the client's services ecosystem.
Build awareness about ESG requirements and get personalized advisory.
Get comprehensive assets for ESG progress measurement and audit.
Simplify ESG regulatory reporting processes.
To address each of the needs, we developed a concept of a collaborative web-based space for ESG consulting & audit that encompassed ESG compliance monitoring and reporting.
We created a unified record of core regulations (GRI, SASB, TCFD, US GAAP, IFRS, SEC, SBTi, CDP) and introduced automated goals mapping on regulatory standards. Smart filters and flexible case structures included various business constraints and allowed practitioners to easily scope the information to create customer profiles and set ESG goals.
Custom process flows and compliance checklists allowed companies to understand the steps to become compliant with each ESG regulation. As digital consultancy remained a key platform's feature, we also strived to streamline collaboration between companies and practitioners by adding a dedicated space for communication and data sharing.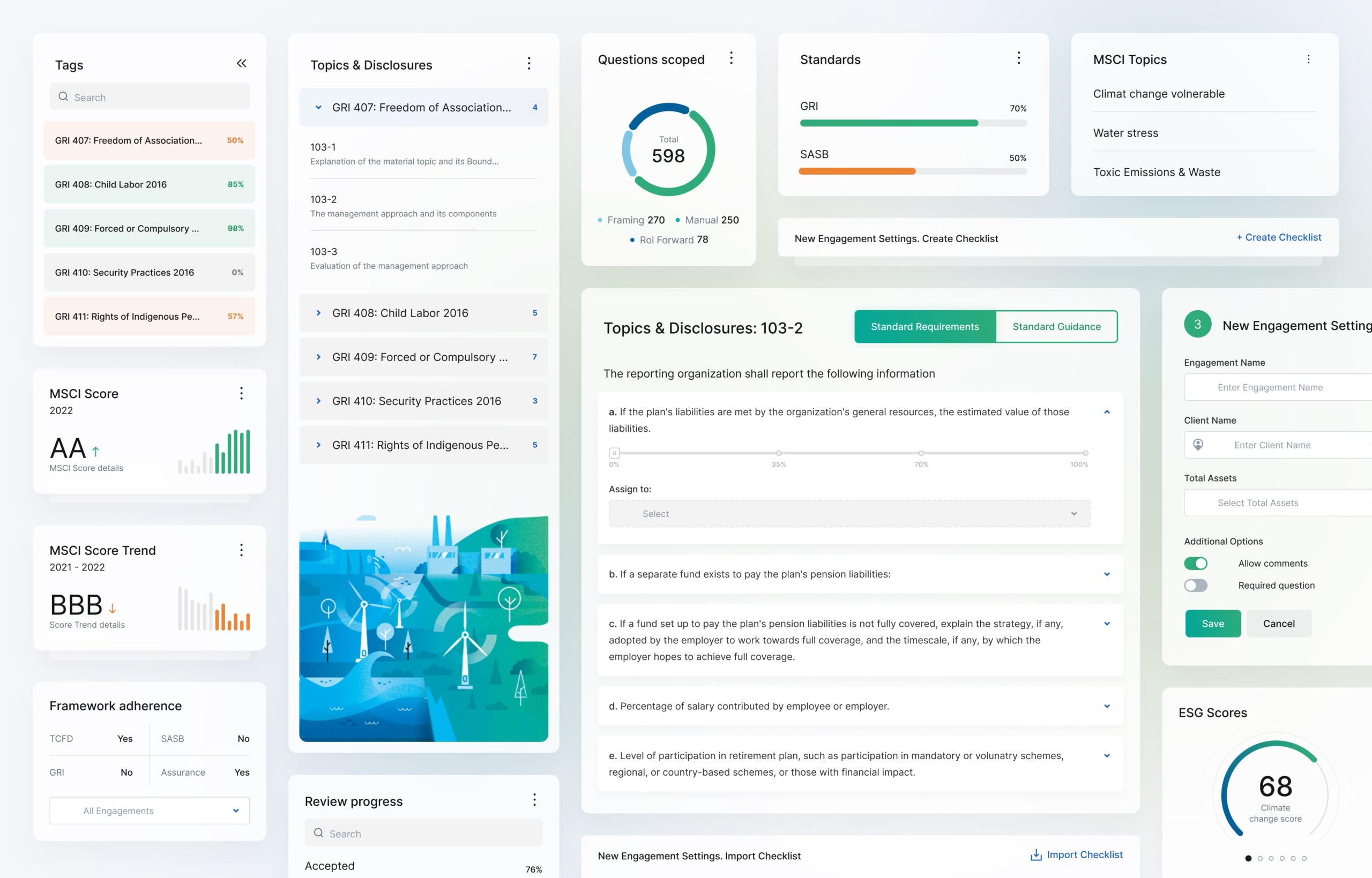 As a part of the platform's audit functionality, we developed informative summary dashboards to help both practitioners and company representatives review action items and evaluate the checklist statuses.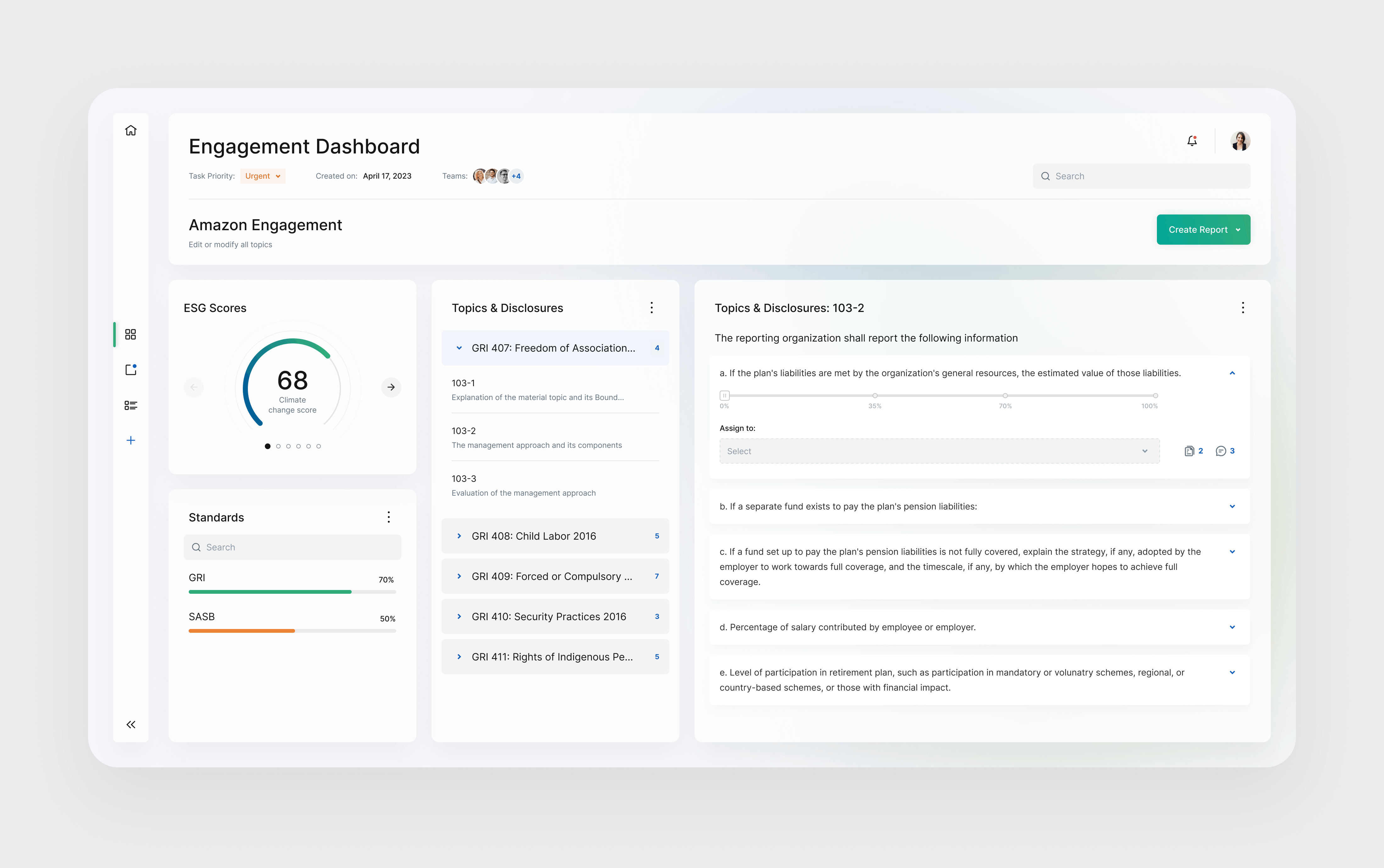 To help companies measure how they are moving towards their ESG goals and report to stakeholders, we introduced comprehensive progress dashboards with status tracking and export capabilities.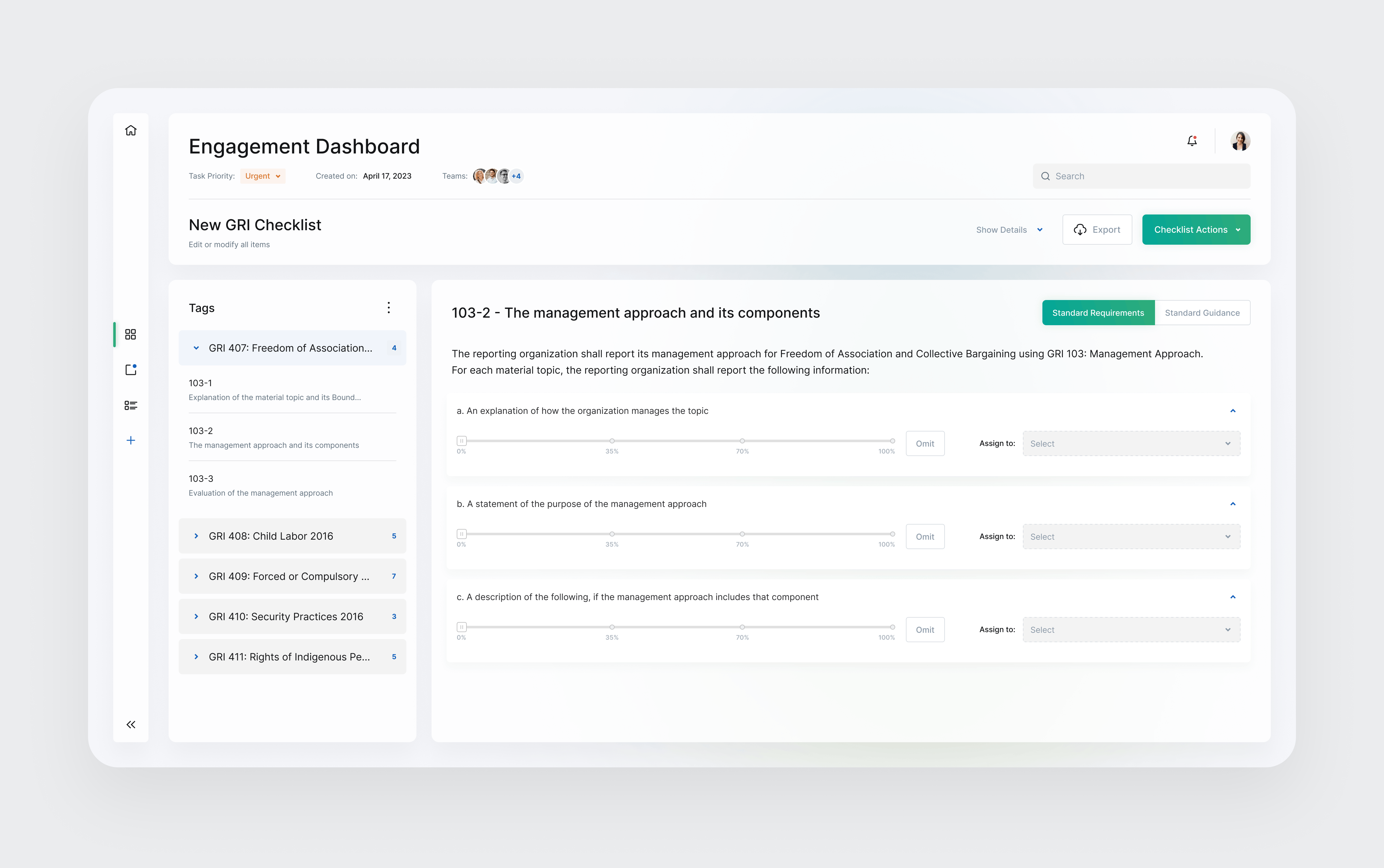 IMPACT
Ramping up client's ESG efforts with an award-winning impact measurement framework_
A profound exploration of the ESG landscape allowed us to collect and structure existing sustainability requirements into a scalable progress measurement framework. This concept was implemented as a dedicated sustainability module of our client's business audit solution and had a direct impact on several success areas.
Helping the client unlock a new revenue stream
A design concept developed by Trinetix appeared to be a complete product-market fit and allowed the client to successfully expand their consulting & audit services with a new relevant offering.
Providing a 360-degree view into ESG regulatory compliance and reporting processes
Being a complete ESG knowledge base on one side and a functional tool for compliance assessment & reporting on the other, the solution provided businesses with comprehensive assets for achieving sustainability compliance.
Gaining a competitive edge in the area
In less than a year after its launch, the product got featured for its innovation and received the most prestigious accounting award. This allowed the client to rank among the leaders of ESG and sustainability consulting.
Want to join global leaders choosing sustainable growth?