Challenge
Adopting innovation to reimagine experiences and make technology accessible to global customers _
Our Fortune 500 client was harnessing the power of cutting-edge technologies to scale their pioneer product for investment fund audit.
Consisting of 18 complex modules and involving more than 7 teams collaborating worldwide to develop and support the product ecosystem, the platform represented a giant digital space that incorporated 5 phases of the audit cycle and encompassed lots of manual work with distributed data.
Enabling a complex technology kit would simplify the work of company practitioners and reduce auditors' time for portfolio valuation by automating audit workflows and data aggregation across multiple systems.
Considering our experience in enterprise transformation and years of successful digital partnership, the client addressed Trinetix for the development of a holistic design concept that would elevate their service offering. To help the client achieve their goals, we focused on these key objectives:
Leveraging the adoption of AI/ML and NLP through intuitive user flows
Building process integrity to reduce boundaries and allow for product globalization
Empowering consistent product growth with a scalable design system
Solution
Creating revolutionary user experience for unprecedented product growth _
The transformation required a consistent approach to product design that would allow the client to seamlessly incorporate complex audit processes, integrate multiple sub-systems, and scale the solution by leveraging innovative technology.
To ensure seamless user access to the system's core features and innovations, we developed a system of comprehensive flows that streamlined portfolio valuation experiences and automated auditors' work.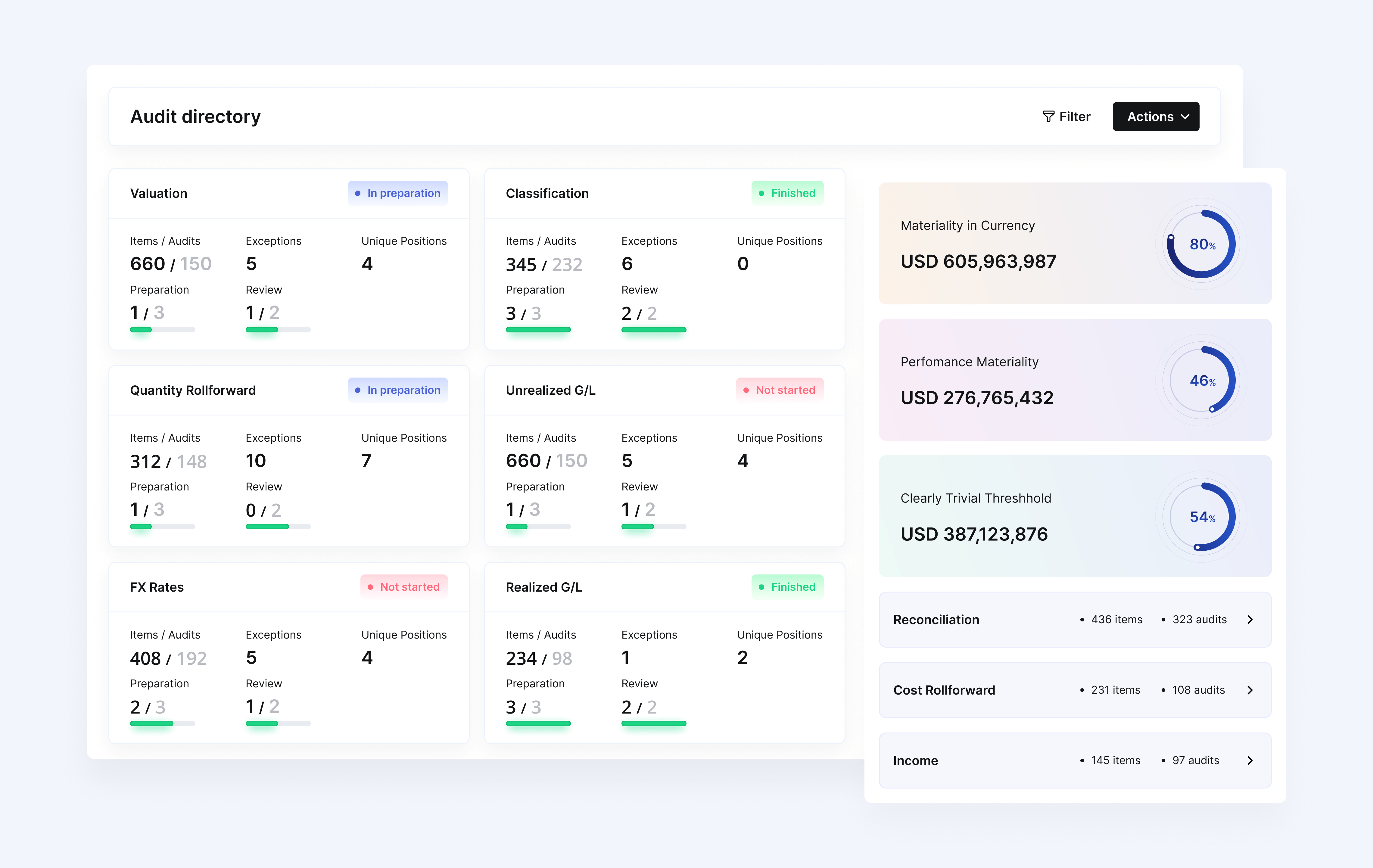 Building a flexible sequence of process phases that automatically adjusts the investment valuation routines depending on audit goals, businesses' size, and geo (the US and Europe).
Leveraging smart data uploading & import processes to enable sharing of multiple PDF files using a simple drag-and-drop action.
Establishing a transparent data processing flow that allows the extraction of dispersed data and immediate detection of any anomalies.
Creating a single view of aggregated data using intelligent matching to help auditors achieve data consistency and get reconciliation results in a few clicks.
As the product was part of a huge brand ecosystem and involved multiple integrations, we needed to ensure consistency at all stages of user interactions with the platform.
Developing intuitive user flows that would allow the client to fit the product into the brand's audit ecosystem.
Building process integrity through the standardization of all design patterns and unification of data visualizations & UX copy.
Providing clear navigation to enable seamless cloud-enabled integrations with dedicated systems and third-party services that made up the solution.
Finally, we brought our strategic end-to-end approach to experience design to enable continuous product scaling using a rich brand-compliant UI/UX kit.
Flexible layouts to help the client grow the system's functionality.
A set of reusable design components speeding up further innovation adoption.
A unified design system and simple user flows to create a consistent world-class user experience.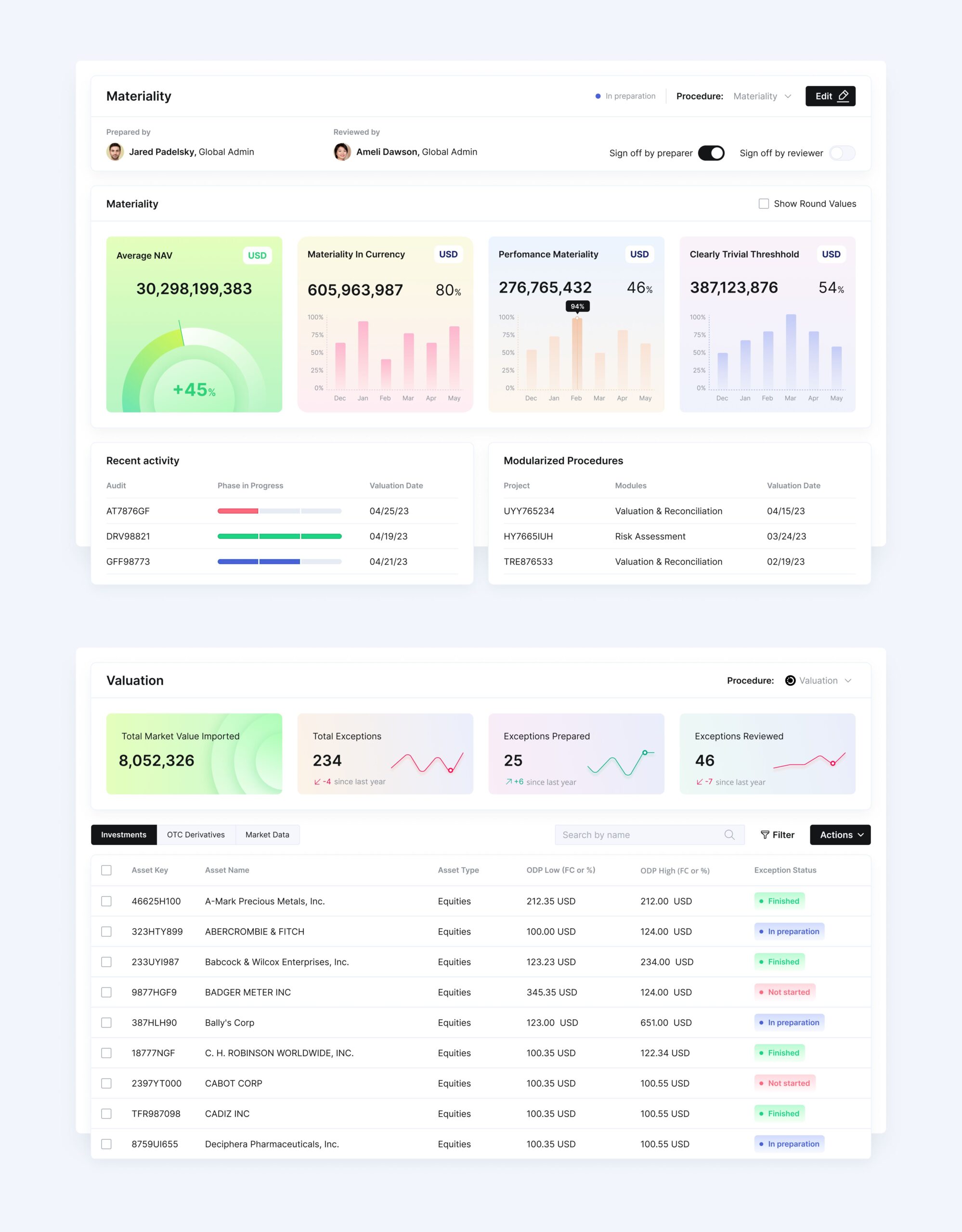 Impact
Operationalizing intelligent process transformation at scale with a top-notch design concept _
Combining the client's state-of-art product concept with the Trinetix strategic, impact-oriented approach resulted in accomplishing a value-added process transformation and allowed the client to break the ground by reimagining investment fund audits from the inside.
Being deeply involved in the clients' digital agenda, we prioritized addressing transformation challenges and helped the company achieve a number of impactful outcomes:
Reduced complexity of investment portfolio valuation processes
Facilitated enterprise-scale adoption of cloud services and cutting-edge technology
Enabled the next level of decision-making with smart data visualization
Unlocked new revenue streams by globalizing services provision
Created a unique market proposition by building an integral fund audit product
The scale of innovation was recognized with a series of globally-claimed awards, and the company continues partnering with Trinetix to enable consistent product growth.
Want to get measurable results from the adoption of cutting-edge tech?