Challenge
Founded by a record promotion vet, Spintel is a company assisting music companies and artists in identifying their best airplay opportunities through terrestrial radio airplay data visualization and analysis.
Spintel aims to turn the tedious and manually managed task of gathering, organizing, and filtering airplay data from music industry service partners into a more rewarding, streamlined, and collaboration-friendly process by equipping music creators and producers with a digital music analysis platform.
Having made a prototype of such a platform, the client proceeded to the next step— developing an actionable and detailed MVP for attracting investors. Achieving that goal required teaming up with a capable, innovation-driven, and experienced execution partner that shared the client's vision and values. After following a trusted referral, the client connected with Trinetix and discovered the culture fit and the alignment of values that guaranteed a successful and productive development journey.
Solution
Evolving a prototype into a functional, intuitive, and groundbreaking SaaS MVP
Before working with Trinetix, the client already had a platform prototype, including the features he wanted to see in the MVP. We used this prototype to create a functional MVP with an expanded feature set and a performing, user-friendly interface providing an intuitive and easy learning curve for potential users.
Our work started with exploration and immersion into the client's environment. We dedicated a round of discovery sessions on prototype analysis, system audit, and identification of areas for improvement. Additionally, we communicated closely with the client, mapping user personas, learning more about industry specifics, song ranking, and panel chart calculations along with producing processes to map out the most fitting visualization ideas.
After intense brainstorming, user persona mapping, and communication with the client, we developed a refined product vision. The improved version contained streamlined data architecture, intuitive and user-friendly data processing flows, advanced and easy-to-navigate collaboration options—all accompanied with our best data visualization practices and ideas that brought massive volumes of airplay data in front of users in the form of interactive charts, maps, graphs and panels.
Using a robust tech stack (PostgreSQL, RedShift, React, .NET Core), we followed the latest product vision closely, expanding on the features from the client's prototype and inserting a suite of capabilities necessary for securing long-term functionality and value. Our team implemented capabilities enabling users to build custom station panels, filter and sort airplay data, and use pre-made models to unlock their growth opportunities.
To maximize users' ability to grow their songs, we built a highly intuitive interface that lets users navigate their songs and tracks across all radio stations in the US via interactive maps and data visualizations.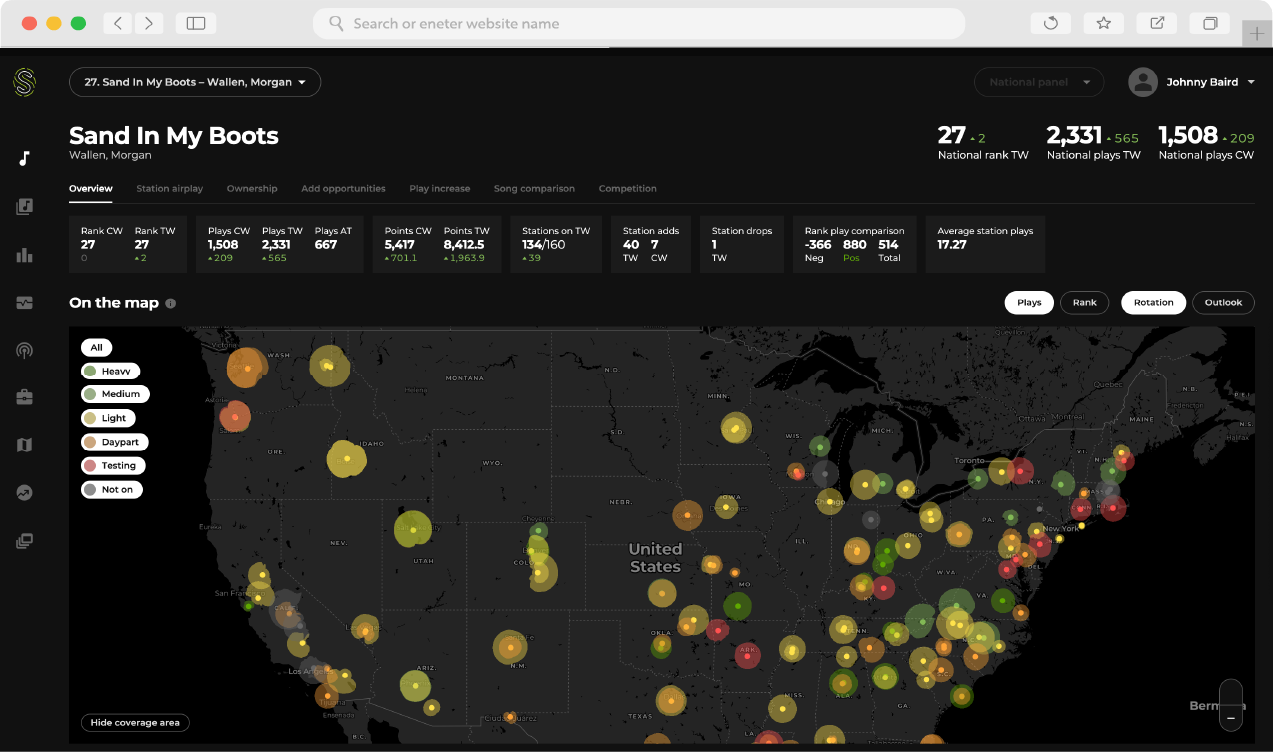 In the end, we delivered a SaaS MVP that:
Facilitates promotion and music analysis by automatically gathering and organizing airplay data from a partner music reporting service
Lets users select songs for promotion and tracking as well as create custom station panels for individual promotion campaigns
Delivers detailed analytics on the selected song's performance, complete with their current rank and rank shifts
Offers an intuitive and easy-to-learn user flow, improving accessibility for non-tech-savvy users and providing a pleasant experience for tech-aware users
Puts growth possibilities in front of producers and promoters by letting them sort stations by rank and view the highest and the lowest ranking titles
Enables users to track the progress of their songs through accurate and renewable charts
Introduces new collaborative options, enabling teams to work on one song
Impact
Turning a groundbreaking idea into a one-of-a-kind product that had a transformative effect on song promotion flow
With our team overseeing the product's development, design, and maintenance, the MVP platform was successfully released and introduced to the market. The client successfully communicated with investors and made new partnerships with major music industry services.
We realized the client's knowledge of the industry and idea into a highly competitive solution that turned a new leaf for many producers and artists promoting their titles. The Spintel platform translates large volumes of airplay data into easy-to-read and manage charts, letting users see how their titles are performing, who are their main competitors, and where the untapped opportunities lie—effectively creating a new, stress-free, and data-driven approach to song promotion.

This next-gen solution made a long-term impact on the promotion efficiency:
Secured the client's competitive advantage in the sector by bringing the unprecedented digital music analysis platform to the music promotion market
Provided music professionals with new leverage against their competitors in their fields
Introduced a brand new approach empowered with actionable insights and customizable features, essentially ending a manually-managed promotion routine
Unlocked additional value to terrestrial radio airplay data and its effect on song growth
Facilitated the collaborative promotion work for producer teams across the US